Get Yankees Tickets
Yankees Games
Types of Yankees Seating Here
Grandstand Tickets
Bleacher Seats
Box Seat Tickets
Third Base Seats
First Base Seats
Behind Home Plate Tickets
Infield Seating
Outfield Seats
Loge Box Seats
Standing Room Only
Partial View Tickets
First, Second, Third Row Seats
Group Tickets
Yankees Legends Tickets
Stadium Parking
VIP Passes
Yankees Braves Game Tickets
Get Yankees vs. Braves Tickets here at your online Yankees ticket specialists, GetYankeesTickets. Find tickets to any New York Yankees vs. Atlanta Braves game here. We specialize in New York Yankees tickets and offer affordable New York Yankees vs. Atlanta Braves baseball tickets at cheap prices. And all our MLB tickets are 100% guaranteed. You'll find a huge choice of seats here. When the Braves play the Yankees, you'll find the seats you want here.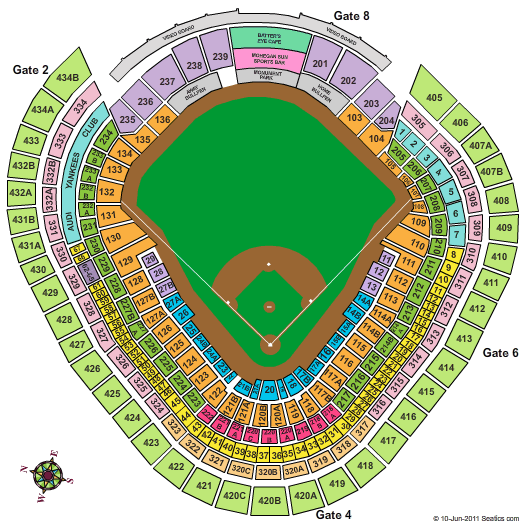 Click to see Yankee Stadium's seating chart
Buy cheap Yankees tickets here at GetYankeesTickets.com. Also find MLB tickets to any other game this season. You'll also find theater tickets like New York Broadway and Las Vegas shows and concert tickets here as well. Find incredibly cheap Yankee tickets here. We have a huge inventory of Braves Yankees tickets and our prices are among the cheapest online. And of course you can expect to locate the best Yankees vs. Braves Tickets here. Whenever the Yankees play the Braves, shop here at GetYankeesTickets.com.
The History of the Yankees versus the Braves
As of the start of the 2012 season, the Yankees and Atlanta Braves have played one another 22 times in the regular season. Of those 22 games, the Yankees have won 12 but are just 6-8 at Yankee Stadium. The two teams have battled four times in the World Series. The first two meetings came in 1957 and 1958 when the Braves played in Milwaukee. Both series went seven games with the Braves winning in 1957 and the Yankees winning in 1958 after digging themselves out of a 3-1 hole.
About four decades later, the teams dueled in the 1996 and 1999 Fall Classic. In both series, the Yankees got the best of the Braves. In 1996, the Braves outscored the Yankees 26-18 but still lost in six games. In 1999, the Bronx Bombers swept the Braves in a series best known for Jim Gray's interview of Pete Rose before Game 2. Gray's aggressive questioning of Rose about gambling on baseball prompted Chad Curtis (on a decision made by his team) to refuse to speak with the NBC sports journalist after Game 3. Gray wanted to talk with Curtis about his game-winning home run. Joe Torre managed the Yankees during the two aforementioned World Series appearances. He had managed the Braves in the early 1980s.
The Yankees in the News


Masahiro Tanaka may be just four starts into his Major League career, but the Yankees right-hander has shown just how impressive he can be.
Michael Pineda was involved in a minor controversy during his first start vs. the Red Sox this season, but the right-hander is out to prove his outing wasn't a fluke as he starts opposite John Lackey in Wednesday night's game at Fenway Park.
It was an evening of mixed reactions, to be sure, but Jacoby Ellsbury did not need the high-definition video screen to show off his dynamic talents. Ellsbury did plenty of that in real time, keeping busy on the bases and in the field to help the Yankees to a 9-3 victory on Tuesday.
For Jacoby Ellsbury, there were no mixed emotions about returning to Fenway Park as a member of the Yankees on Tuesday. "I was looking forward to it," he said.
Ivan Nova's season appears to be over. The Yankees right-hander has been advised to have Tommy John surgery to repair a partially torn right ulnar collateral ligament.
The Yankees activated closer David Robertson from the disabled list on Tuesday, completing the right-hander's two-week recovery from a strained left groin.
Yangervis Solarte, a 26-year-old infielder from Venezuela, has been receiving praise throughout the American League. A non-roster invitee to Spring Training, Solarte forced his way onto the team with a torrid exhibition stat line and has kept it up through his first month in the Majors.
New York City FC announced Monday that it will play its first season -- and perhaps a few more -- in Yankee Stadium while it seeks to build a soccer-only facility. NYCFC, an expansion franchise to Major League Soccer, will begin play next year and began selling season tickets on Monday.
Dean Anna just barely held his swing and worked a bases-loaded, full-count walk against C.J. Riefenhauser in a 12th-inning battle between a pair of rookies, forcing home the go-ahead run as the Yankees defeated the Rays, 5-1, on Sunday at Tropicana Field.
There were two successfully challenged calls during Sunday's game between the Yankees and Rays at Tropicana Field, and after New York's 5-1 victory in 12 innings, a fourth-inning trap play still had the visitors talking.
After surrendering 27 runs to the Rays over the last two games and losing Ivan Nova to injury, the Yankees shuffled their pitching staff prior to Sunday's series finale at Tropicana Field.
Mark Teixeira is hoping to restore some normalcy to the Yankees' first-base position, as the five-time Gold Glove Award winner was activated from the 15-day disabled list before Sunday's game against the Rays at Tropicana Field.
As part of a number of moves on Sunday, the Yankees activated Mark Teixeira from the 15-day disabled list and inserted him into the lineup, batting sixth and playing first base. Teixeira had not played since April 4, when he injured his right hamstring in a game against the Blue Jays.
Dean Anna has spent the past few winters supplementing his income by pitching in with baseball clinics, so he is only a few months removed from tossing his last batting practice session. Those offseason workouts came in handy on Saturday, as he pumped 17 pitches, mopping up on the mound for the eighth inning of a 16-1 Tampa Bay rout.
Ivan Nova surrendered a career-high four home runs before walking off the field with a sore elbow. Things didn't get much better from there for the Yankees, who were thumped, 16-1, by the Rays on Saturday at Tropicana Field.
Matt Daley couldn't have known watching Friday's game that Cesar Cabral's plunking of Logan Forsythe would lead to him suiting up again with the Yankees, but there he was at Tropicana Field on Saturday, taking Cabral's spot on the roster.
The Yankees have received positive reports on Mark Teixeira and David Robertson, both of whom participated in a Minor League game on Saturday .

The Braves in the News


After another excellent outing from Aaron Harang, Evan Gattis' two-run double in the eighth inning gave the Braves a series win over the Marlins.
Though the two have some history, Chris Johnson says he's a fan of Miami ace Jose Fernandez: "He's the best you're going to get."
The Braves and Marlins have decided to give Alex Wood and Jose Fernandez a couple extra days of rest coming off the impressive pitchers' duel the two young hurlers waged at Turner Field on Tuesday night. Consequently, Wood and Fernandez are currently slated to oppose each other again on Tuesday in Miami.
Jose Fernandez proved to be simply dominant as he notched 14 strikeouts over eight scoreless innings while helping the Marlins hand Alex Wood and the Braves a hard-luck 1-0 loss.
Mike Minor was looking forward to the chance to make his regular-season debut this weekend against the Reds. But the Braves have decided Minor will instead make one more Minor League start.
When Braves backup outfielder Jordan Schafer doubled off Carlos Marmol to begin the ninth inning of Monday night's 10-inning win against the Marlins, Jason Heyward looked toward the dugout and saw manager Fredi Gonzalez give him the choice to either swing away or attempt to advance Schafer with a sacrifice bunt.
Over the past couple of weeks, the Braves have watched a number of players affected by the transfer rule, which has gained a different interpretation since the expanded instant replay system was put in place at the start of this season.
After watching Mike Minor complete a bullpen session on Tuesday, Braves manager Fredi Gonzalez and pitching coach Roger McDowell will determine how their starting rotation will shape up over the course of the next week.
Anthony Varvaro has caught the attention of his manager and teammates, as he displayed a high-powered fastball during a scoreless 10th inning Sunday.
After Craig Kimbrel suffered his first blown save, and a bases-loaded threat was squandered during Monday night's ninth inning at Turner Field, Evan Gattis saved the day with a two-run home run that gave the Braves a 4-2, 10-inning win over the Marlins.
Despite a valiant effort from the Braves' bullpen, Atlanta dropped Sunday's finale to the Mets, 4-3, in 14 innings.
Mike Minor is currently on track to make his season debut on Saturday against the Reds.
Braves first baseman Freddie Freeman does not believe he has been around long enough to have earned the "Mets Killer" title that Chipper Jones gained during his long, storied career.
Jordan Schafer chose not to discuss how he injured his right middle finger during Saturday night's win over the Mets. Instead, the Braves' backup outfielder was simply happy that he was available to play in Sunday's series finale at Citi Field.
When Craig Kimbrel was removed during the ninth inning of Saturday night's 7-5 win over the Mets, he visibly expressed his displeasure toward Braves manager Fredi Gonzalez. But approximately 20 minutes later, the dominant closer contritely apologized for his on-field actions.
It proved to be much more interesting than desired after Ervin Santana's gem against the Mets on Saturday night in New York, but Justin Upton's ninth-inning homer allowed the Braves to overcome Craig Kimbrel's rocky return to the mound.
Mike Minor took the mound at Triple-A Gwinnett's Coolray Stadium on Saturday night knowing that the Braves are planning to activate him from the disabled list within the next week. Gavin Floyd, however, will make at least two more rehab starts before joining Atlanta.
Get Yankees Tickets Information
We are resale marketplace that specializes in Yankees tickets. We are not a box office or venue. We are not affiliated with the New York Yankees, Yankee Stadium, any other MLB team, club or group. We sell Yankees vs. Braves Tickets on the secondary ticket marketplace and prices can be more than face value.

Search For Tickets