Get Yankees Tickets
Yankees Games
Types of Yankees Seating Here
Grandstand Tickets
Bleacher Seats
Box Seat Tickets
Third Base Seats
First Base Seats
Behind Home Plate Tickets
Infield Seating
Outfield Seats
Loge Box Seats
Standing Room Only
Partial View Tickets
First, Second, Third Row Seats
Group Tickets
Yankees Legends Tickets
Stadium Parking
VIP Passes
Yankees Braves Game Tickets
Get Yankees vs. Braves Tickets here at your online Yankees ticket specialists, GetYankeesTickets. Find tickets to any New York Yankees vs. Atlanta Braves game here. We specialize in New York Yankees tickets and offer affordable New York Yankees vs. Atlanta Braves baseball tickets at cheap prices. And all our MLB tickets are 100% guaranteed. You'll find a huge choice of seats here. When the Braves play the Yankees, you'll find the seats you want here.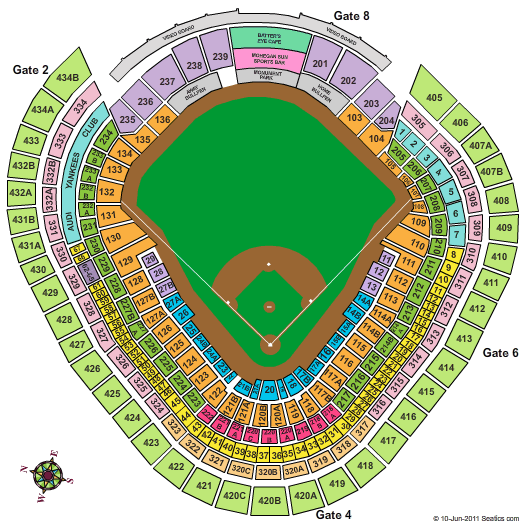 Click to see Yankee Stadium's seating chart
Buy cheap Yankees tickets here at GetYankeesTickets.com. Also find MLB tickets to any other game this season. You'll also find theater tickets like New York Broadway and Las Vegas shows and concert tickets here as well. Find incredibly cheap Yankee tickets here. We have a huge inventory of Braves Yankees tickets and our prices are among the cheapest online. And of course you can expect to locate the best Yankees vs. Braves Tickets here. Whenever the Yankees play the Braves, shop here at GetYankeesTickets.com.
The History of the Yankees versus the Braves
As of the start of the 2012 season, the Yankees and Atlanta Braves have played one another 22 times in the regular season. Of those 22 games, the Yankees have won 12 but are just 6-8 at Yankee Stadium. The two teams have battled four times in the World Series. The first two meetings came in 1957 and 1958 when the Braves played in Milwaukee. Both series went seven games with the Braves winning in 1957 and the Yankees winning in 1958 after digging themselves out of a 3-1 hole.
About four decades later, the teams dueled in the 1996 and 1999 Fall Classic. In both series, the Yankees got the best of the Braves. In 1996, the Braves outscored the Yankees 26-18 but still lost in six games. In 1999, the Bronx Bombers swept the Braves in a series best known for Jim Gray's interview of Pete Rose before Game 2. Gray's aggressive questioning of Rose about gambling on baseball prompted Chad Curtis (on a decision made by his team) to refuse to speak with the NBC sports journalist after Game 3. Gray wanted to talk with Curtis about his game-winning home run. Joe Torre managed the Yankees during the two aforementioned World Series appearances. He had managed the Braves in the early 1980s.
The Yankees in the News


The Yankees plan to shuffle the deck with several roster moves before Sunday's game -- including the activation of Mark Teixeira -- hoping to score a split of this four-game series with the Rays. Vidal Nuno will start for New York, with Cesar Ramos getting the call for Tampa Bay.
Dean Anna has spent the past few winters supplementing his income by pitching in with baseball clinics, so he is only a few months removed from tossing his last batting practice session. Those offseason workouts came in handy on Saturday, as he pumped 17 pitches, mopping up on the mound for the eighth inning of a 16-1 Tampa Bay rout.
Ivan Nova surrendered a career-high four home runs before walking off the field with a sore elbow. Things didn't get much better from there for the Yankees, who were thumped, 16-1, by the Rays on Saturday at Tropicana Field.
Ivan Nova was removed from Saturday's game against the Rays in the fifth inning after he felt discomfort in his right elbow on a pitch to Evan Longoria.
Matt Daley couldn't have known watching Friday's game that Cesar Cabral's plunking of Logan Forsythe would lead to him suiting up again with the Yankees, but there he was at Tropicana Field on Saturday, taking Cabral's spot on the roster.
The Yankees have received positive reports on Mark Teixeira and David Robertson, both of whom participated in a Minor League game on Saturday .
Carlos Beltran said that his sore left shoulder and right wrist are improving after Friday's tumble over a short wall at Tropicana Field, and he returned to the lineup as the designated hitter on Saturday.
Left-hander Cesar Cabral was designated for assignment by the Yankees on Friday night after hitting three batters and getting ejected by home-plate umpire Joe West during New York's 11-5 loss to the Rays at Tropicana Field. To fill Cabral's spot, the Yankees have called up right-hander Matt Daley.
James Loney delivered the go-ahead hit off Adam Warren as part of a four-RBI performance, highlighting a late charge as the Rays rallied against the Yankees' bullpen to claim an 11-5 victory on Friday at Tropicana Field.
The Yankees successfully challenged a call at first base involving Ichiro Suzuki in the second inning of Friday's game against the Rays at Tropicana Field.
Mark Teixeira singled in five Minor League at-bats on Friday and is moving closer to being activated by the Yankees, who are planning on having him in the lineup on Sunday against the Rays at Tropicana Field.
Carlos Beltran had an MRI exam on his left shoulder and his right wrist after tumbling over a short wall in right field during Thursday's 10-2 Yankees victory over the Rays. The tests were negative, but the outfielder said that he is feeling sore.
The Yankees turned yet another triple play behind CC Sabathia, their third since 2010, Alfonso Soriano and Brian McCann went back to back, and Yangervis Solarte hit his first Major League homer in a 10-2 victory over the Rays on Thursday.
The Yankees completed a triple play, their second in the past two seasons, in the second inning of Thursday's game against the Rays at Tropicana Field.
Scott Sizemore had been told to "be ready for anything," and so that was the mantra he followed while preparing to play his first career game at first base on Thursday. He certainly wasn't counting on completing a triple play in his second inning of action.
David Robertson threw a bullpen session on Thursday at Tropicana Field and remains on track to be activated from the 15-day disabled list on Tuesday, the first day that he would be eligible.
Michael Pineda tossed six shutout innings to lead the Yankees to a 2-0 win and a doubleheader sweep of the Cubs in the Bronx on Wednesday night. Brett Gardner and Scott Sizemore had RBIs.

The Braves in the News


When the Braves and the Mets meet in Sunday's series finale, two Georgians take the hill hoping to forget their last outings in their own backyard. David Hale and Zack Wheeler both had season-worst outings in early April at Turner Field.
When Craig Kimbrel was removed during the ninth inning of Saturday night's 7-5 win over the Mets, he visibly expressed his displeasure toward Braves manager Fredi Gonzalez. But approximately 20 minutes later, the dominant closer contritely apologized for his on-field actions.
It proved to be much more interesting than desired after Ervin Santana's gem against the Mets on Saturday night in New York, but Justin Upton's ninth-inning homer allowed the Braves to overcome Craig Kimbrel's rocky return to the mound.
Mike Minor took the mound at Triple-A Gwinnett's Coolray Stadium on Saturday night knowing that the Braves are planning to activate him from the disabled list within the next week. Gavin Floyd, however, will make at least two more rehab starts before joining Atlanta.
Braves manager Fredi Gonzalez visited Major League Baseball Advanced Media's office on Saturday morning to see the Replay Command Center, where staffed umpires review the plays challenged by managers during the course of games.
Aaron Harang's exit after seven innings with a no-hit bid in place against the Mets on Friday might not have garnered so much attention had Braves first baseman Freddie Freeman not helped record what ended up being an "insurance fourth out" in the second inning.
Only a high pitch count prevented Aaron Harang from bidding for history on Friday night at Citi Field. But after he'd delivered seven hitless innings, the Braves preserved his gem with a late-inning eruption that allowed them to cruise to a 6-0 win over the Mets.
The most underrated coach of any kind in Major League Baseball is Braves pitching coach Roger McDowell, and it isn't even close. The nine-year vet of the staff has led Atlanta to a top-five finish in ERA for the past five years.
Instead of attempting to halt his early-season struggles while facing Mets left-hander Jon Niese for the first time since their last encounter left him fractured and bloodied, Jason Heyward was given a chance to rest as the Braves opened a three-game series on Friday night at Citi Field.
When the Braves entered this season with an injury-depleted rotation, they did not have much reason to believe they would near the end of April wondering who they might remove once Mike Minor and Gavin Floyd are declared ready to pitch at the Major League level. Now those decisions may be looming.
Philadelphia and Atlanta had their game washed away by the poor weather on Tuesday, but they'll make it up as part of a day-night doubleheader at Citizens Bank Park on June 28.
Alex Wood worked eight innings and allowed one run, but that was all the Phillies needed in a 1-0 win over the Braves on Thursday afternoon.
Looked upon as a singular moment, Julio Teheran's outing on Wednesday night against the Phillies was the epitome of great pitching.
Major League Baseball's replay official in New York saw something even the Phillies couldn't be sure of Thursday afternoon at Citizens Bank Park.
The Braves knew from the start shortstop Andrelton Simmons could field. What no one knew was if he could hit consistently at the Major League level.
Evan Gattis hit his seventh homer in 46 lifetime at-bats vs. Philadelphia in the Braves' 1-0 victory on Wednesday, establishing himself as a legitimate Phillies killer.
Former Braves infielder and current first-base coach Terry Pendleton had the opportunity to speak with Pee Wee Reese, a teammate of Jackie Robinson's when he broke the color barrier, and Pendleton emphasized the importance of players knowing "who paved the way for them."
Get Yankees Tickets Information
We are resale marketplace that specializes in Yankees tickets. We are not a box office or venue. We are not affiliated with the New York Yankees, Yankee Stadium, any other MLB team, club or group. We sell Yankees vs. Braves Tickets on the secondary ticket marketplace and prices can be more than face value.

Search For Tickets